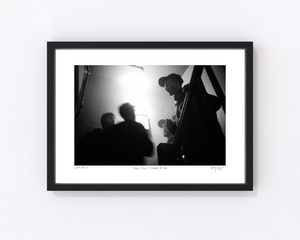 The Lords Edition // Digitally signed by Maclay Heriot.
John, Jason, Kyle and TM Scott. Side stage pre show Bowery Ball Room NYC, Orb Tour Fall 2016
Limited, made to order, framed prints. 
THIS IS A PRESALE. Prints and frames are made to order. Item can take 6-8 weeks to arrive. These will ship one frame per box. Please place separate orders for two prints to be sure they arrive safely.